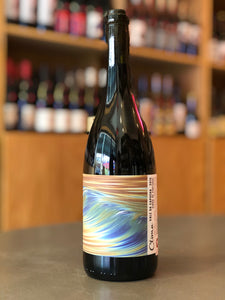 Certified organic from Lisbon, Portugal this wine is grown in limestone rich mineral soil. The wine is a blend of Tinta Roriz and Castelao which gives the wine and perfumed and spicy sent on the nose. Tasting notes include savory tobacco, game and smokey fruit.
Grapes: 40% Touriga Nacional, 30% Tinta Roriz, 30% Castelão 
👁 dark purple-red
👃🏾 blueberries, licorice, earthy, balsamic, savory tobacco, smokey fruit
👅 plum and red fruit to be felt on the palate. Light sweetness is present towards the generally dry and lasting finish
Pedro Marques is the fifth-generation in a winemaking family, based in Torres Vedras, just north of Lisbon. He has always been captivated by the subtlety and restrained minerality of the wines of central France, and the idea of ensuring the personality of a vineyard is expressed in the glass. His 13 hectares of vineyards, situated 9 km from the coast, have soils of Kimmeridgian clay with high proportion of ocean fossils, similar to those found in Chablis. The vineyards are bathed by fresh Atlantic breezes, further enhancing the saline element in the wines and tempering the warmth of the region. He has been certified organic since 2015, no easy task in this humid climate. His main plantings are white grapes – predominantly Portuguese locals Arinto and Fernão Pires plus a little Alvarinho, Gouveio, Viosinho and Antão Vaz. He also has a co-planting of Touriga Nacional and Tinta Roriz; a site with 80+ year old Castelão; and a small parcel of Syrah. In his own word he follows a "lazy" approach to winemaking, his only addition being a touch of SO2. His wines show great character, if you like textural, terroir-driven wines, this young winemaker is one to watch.