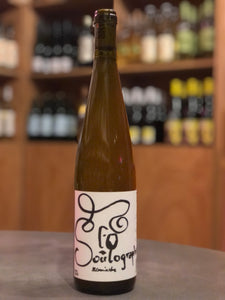 Supplier: Bobo Selections
Producer: Sons Of Wine
Category: Wine - Still - White
Grapes: Pinot Blanc, Chardonnay, Pinot Auxerrois, and Pinot Gris
Region: Languedoc-Roussillon, France
Appellation: Vin de France
Tasting Notes
Beautiful mix of Pinot blanc, Chardonnay, Auxerrois and Pinot gris. Spontaneous fermentation, directly pressed, then matured in cement. Super glouglou white wine with tasty minerals and fresh acidity. Citrus, pineapple, delicious!
Farid Yahimi aka Sons of Wine is an organic négoçiant, based in Beblemheim, Alsace, who has a very distinct, young and wild style of winemaking. Unique to Alsace ... or even the world. He's not afraid to cross the border as he also makes a Verdejo-based wine from colleague Ismael Gozalo * Microbio wines! and a Pinot noir aged in a barrel under the Mediterranean for a year. His range is special, tasty and always very good.