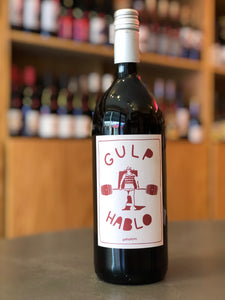 Gulp Hablo Garnacha 2019 is a red natural wine made from Demeter certified biodynamic grapes farmed in Castilla-La Mancha, Spain.
The grapes are grown on chalky clay soils and vinified naturally. Gulp Hablo Garnacha is also vegan certified. Ultimate glou glou wine in one-liter bottles.

Pair with just about anything or drink alone. 
👁 bright red

👃🏾 Tart red berries, pepper, violets
👅 light in body bursting with red berry fruit but dry with hints of dried herbs and spice