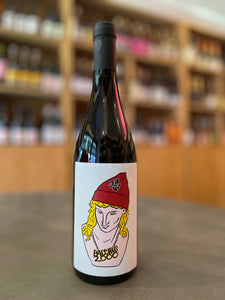 Distributor: Ripe Wine Imports
Producer: Stephan Thibault
Category: Wine - Still - Red
Grape: Cabernet Franc
Region: France
Appellation: Vin de France
Manual harvest. Fermentation in indigenous yeasts Fermentation in whole bunches.
Staff Notes
Velvet soft cranberry and cherry. Leathery Smokey finish. Perfect fall red.
ABOUT THE PRODUCER
Stephan Thibault is one of a new generation of young winemakers rolling up their sleeves and returning to the traditions of small production, hand-crafted wines. Stephan fell in love with growing and vinifying grapes under, as he describes it, 'The burning sun and rough soil' of the Rhone Valley. He continued his education in Anjou, with several winemakers who specialized in organic farming.

Finally, an opportunity arose to work a small plot in the village of Le Puy-Notre Dame. The clay-limestone soils are ideal for both red and white grapes. Stephan is part of a tight knit, dynamic community of winemakers in the village who also work organically. They support each other with shared knowledge, labor and equipment.

Stephan himself is involved in every step at his small Estate by hand - from farming, to harvest, to winemaking, to bottling. All care for his 3.5 Ha plot is done by hand, using organic practices and elements of biodynamic principles. This rigorous work is all for the purposes of filling his barrels with 'healthy, alive grapes'.

Once in the winery, fermentation is allowed to take place with native yeasts, with 8 days of maceration. The wines are aged 6 months, before being lightly filtered. The final sulfite levels are only 43 mg/L. Stephan's goal throughout is for his healthy, alive grapes to end up bottled as healthy, alive, wine - an expression of his beloved adopted home.

Stephan Thibault makes only 2,000 cases of wine a year.