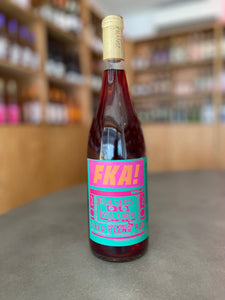 Producer: Subject To Change
Category: Wine - Still - Red
Grapes: Pinotage, Chardonnay, and Merlot
Region: California, United States
Subregion: Mendocino County
Appellation: Mendocino
About the Producer
Subject to Change is a labor of love. We have a small but growing team based out of Oakland, CA. We make site-specific wines exclusively from organic and biodynamic vineyards. The wines are made with no additions or subtractions in the winery. We make wines with strong character, just like the people with whom we like to enjoy them.

Subject to Change Wine Co. exists as a canvas for exploration of terroir and natural wine in Northern California. STC was founded on a true love for drinking wine, and the many people and experiences that come as a result. In a place where wine production has recently been marked by rules and rigor, there's a new movement of free thinking producers. We're proud to be part of a revolution defined by experimentation - where we don't need to conform to a certain archetype and wine can feel exciting again.

We source fruit exclusively from organic or biodynamic growers with whom we have a symbiotic working relationship. Mostly, we focus on making wines that we like to drink, which can be on a spectrum from fun and whimsical to serious and intellectual (we like to think those things are not mutually exclusive depending on context).

The wines are fresh and often offbeat, just how we like it.