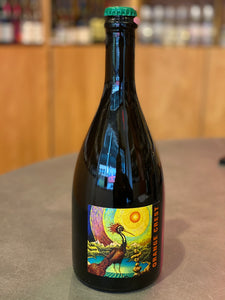 Aromatic with a nice balance of heady citrus (think blood orange and yuzu) and floral notes. This is a great everyday orange wine, fermented in bottle for a lively spritziness.
Tenuta Santa Lucia Description
The property's winemaking roots date back to the late 60s, when Tenuta Santa Lucia was established as a farm. Located in the heart of the Romagna, it stretches over 100 hectares, from which 15 are vineyards at 250 m. above sea level, on the first gentle slopes of the Apennines. Originally the farm was producing at 360 de-
grees: from cereals to meat, from milk to wine ... self-sufficiency was the target.
At the end of the 90s it was decided to focus on wine-growing and producing: our mission, mine as well as of each member of our team, is to grow and produce wines of consistent, world-class quality that express their unique heritage in the truest sense of terroir.
Hence our commitment to grow native grapes which have been growing here for centuries such as Sangiovese, Albana, Famoso, Centesimino without being influenced by international varietals. We pursue quality through organic and biodynamic farming to ensure available resources are used efficiently: the effects
of winery operations on the environment are minimized, and materials are recycled wherever possible. At Tenuta Santa Lucia we honour this natural transformation by gently monitoring and controlling our vineyards, driven by the concept that this is the only way to get a really typical Wine matching terroir, climate, vintage.
As an agronomist I strive to control over both yields and crop quality, harvesting grapes in a timely manner, i.e. when the flavors have reached their peak and the tannins are at their softest. I firmly believe that great wine is fundamentally tied to fabulous fruit, so vineyard care and traditional handling practices are employed to gently enhance the most authentic expressions of each varietal. Therefore we only use indigenous yeasts, carefully monitoring spontaneous fermentations to ensure a smooth transition of the wine from grape to glass; we let the wine freely express itself to disclose in the glass the tastes which are the essence of the
terroir, once called by the Romans "genius loci". This is how the territory shows the history of the men and the
women who have loved and cultivated it for centuries: a territory that is alive and has got a soul we'd like to infuse into our wine so as to get moved by its flavours and tastes. 
"To my team and my Customers I usually say that wines can tell a lot about us, our land and our work;
it's an endless emotion which will never stop talking to men's heart"
Paride Benedetti