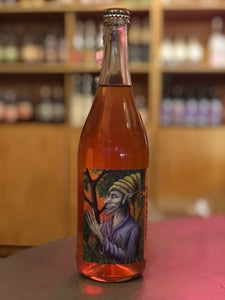 Producer: Tenuta Santa Lucia
Category: Wine - Sparkling - Rosé
Region: Emilia-Romagna, Italy
ABOUT THE PRODUCER
The vineyard of Santa Lucia Estate is located about 100m above sea level at the intersection of the Arno and the Era Valleys on ancient downspouts land consisting of layers of tufaceous sands and gravel; a land which reveals at times the meeting between the river and the sea, which is now located about 25 kilometers to the west, also rich in stone and fossil shells.

The climate is typically Mediterranean with warm breezes coming from the sea during the day and at night channeled by the Arno and Era valleys that provide an excellent ventilation and protect the vineyard from the risk of heat waves determined by recent climate change.

The vineyard is completely surrounded by woods, which sometimes it is intertwined into. This osmotic exchange with the native varieties of Mediterranean maquis allows an interesting occasional aromatic exchange and a greater richness of the interaction between the vineyard and the local wildlife.

The Castellani Family has acquired this vineyard in 2013 with the aim of experimenting the growing of Ciliegiolo grape, very present variety within the estate.

Ciliegiolo is a typical variety of Chianti and in particular of the Tuscan coast, where in recent years has collected more and more support from producers willing to give an original contribution to the Tuscan tradition.
Ciliegiolo can produce wines with good structure and in some cases even power, without sacrificing the elegance and intensity of fruit.