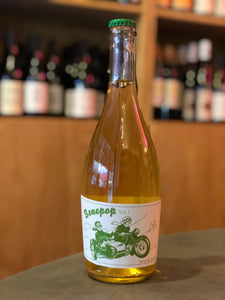 Producer: Terra di Briganti
Category: Wine - Sparkling - Red
Grapes: Aglianico and Sciascinoso
Region: Campania, Italy
Alcohol by volume: 12.5%
Features: Pétillant naturel
ABOUT THE PRODUCER
Terra di Briganti is a small, family run company, located just a few kilometres away from Benevento, on the hills of Casalduni, with a view over the Taburno massif. The name derives from its position in the middle of a triangle of localities (the hay barn of the Colli district, the Fontana Greca district and the Ferrarese Wood) where, during the last few years of Italy's unification, the brigands stopped and rested.

Terra di Briganti was born from a family tradition of expert farmers, which, for generations, have taken care of the natural cult and their passion of the Fruits of the Earth. The vines' optimal sunlight exposure, the gentle slope of the hills and the lower yields per hectare, allow us to harvest grapes that conserve the quality and taste of the past, giving our wines unique character. The ideal synergy between man, Earth and the art of wine and the proper equilibrium between innovation and tradition represent the "vines" of our work, because wines of quality aren't the fruit of coincidence.

Destemming, soft pressing and controlled fermentation are done by modern technologies, which do not alter the result of the product, thus preserving its natural taste. We have chosen traditional medium charred French oak barrels, from the Allier area, to refine and soften the wine, without compromising the sensory characteristics. The company produces organic wines. The pesticides and fertilizers used are natural products (sulphur and copper), and not chemical. As for environmental sustainability, Terra di Briganti has installed photovoltaic panels, to produce the energy necessary to run the winery. Moreover, the winery uses light glass bottles and cardboard products from recycled paper, to reduce CO2 emissions.