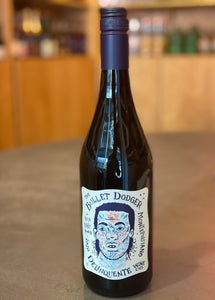 Distributor: Wine Dogs Imports
Producer: Delinquente Wine Co.
Category: Wine - Still - Red
Grape: Montepulciano
Region: South Eastern Australia, Australia
Appellation: Riverland
Notes
A juicy, medium-bodied dry red from an organic winemaker in the Riverland region of South Australia. The area is doing amazing things with Italian grape varieties due to the similarities in the climatic conditions. Wild yeasts, no filtering and nothing added but a small amount of sulfur.
Pimmelling your eyes with its deep plum colour, peppering your nose with bitter-sweet mulberries and cramming your mouth with a creamy texture that belies its fruity finish.
About the Producer
Delinquente is produced by 30 years old owner/ winemaker Con-Greg who was born and raised on a vineyard in the Riverland, his father the manager of production at one of the local bulk wineries. Con-Greg's aim is to showcase just how good wines from the Riverland can be if you use grape varieties and clones that are suited to the climate and soil type and treat the vines with respect.
The approach is to focus on sustainable grape varieties that need less water and thrive in the Riverland's warm, dry climate. They are organically grown, single vineyard fruit, all sourced from a small family vineyard. This is complemented with a minimal intervention winemaking approach including natural, open ferments and no adds in the winery besides a touch of SO2.
The wines are easy drinking, smashable, silky, elegant and fruit forward wines – but with a hidden, subtle complexity and structure.
The nose is beautifully clean for a bottle-fermented wine --- bright citrus mixed with bready, almost croissant-like aromas. The palate is creamy and smooth, with lush tropical fruits like passionfruit and pineapple sweetness and tang. The lovely line of acid means the wine finishes dry and moreish, perfect for a summer picnic in the park or with freshly shucked oysters. - Hudson Wine Brokers