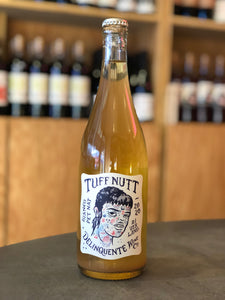 Distributor: Wine Dogs Imports
Producer: Delinquente Wine Co.
Category: Wine - Sparkling - White
Grape: Bianco d'Alessano
Region: South Eastern Australia, Australia
Appellation: Riverland
Features: Pétillant naturel
ABOUT THE PRODUCER
The Riverland wine region is making big waves with some of the old guard changing their approach, mixed in with a new generation of wine growers and makers that have taken a long-term, sustainable approach to region that had built a reputation on bulk wine production and conventional farming.
It's no surprise that well-suited Italian varieties have led the charge here, thanks to growers like Bruce Bassham and Ashley Radcliffe that are able to practice organics and dry farm their vineyards whilst producing pristine examples of fiano, vermentino, nero d'avola, montepulciano and the like. In Australia we are seeing more obscure Italian grapes that ties in well with our sometimes warm and dry climate and also with our rich Southern Italian immigrant culture.
We've been keeping a close eye on this region and are excited to start working with one of the youngest but most exciting minds in the region. The winery we have introduced to the US in 2017 is Delinquente Wine Co. The focus here is on interesting but delicious, generous and textural expressions of Southern Italian varieties.
Delinquente is produced by 29 years old owner/ winemaker Con-Greg who was born and raised on a vineyard in the Riverland, his father the manager of production at one of the local bulk wineries. Con-Greg's aim is to showcase just how good wines from the Riverland can be if you use grape varieties and clones that are suited to the climate and soil type, and treat the vines with respect.
The approach is to focus on sustainable grape varieties that need less water and thrive in the Riverland's warm, dry climate. They are organically grown, single vineyard fruit, all sourced from a small family vineyard.
This is complemented with a minimal intervention winemaking approach including natural, open ferments and no adds in the winery besides a touch of SO2.
The wines are easy drinking, smashable, silky, elegant and fruit forward wines – but with a hidden, subtle complexity and structure.