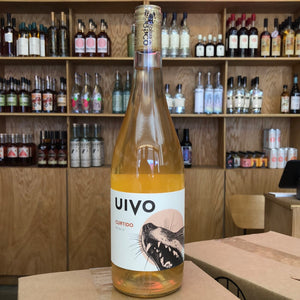 Producer: Folias de Baco — UIVO
Category: Wine - Still - White
Grape: Moscatel Galego
Region: Douro, Portugal
Appellation: Douro
Notes
100% Moscatel Galego

From vines planted to a blend of schist and granite soils. Hand harvested in early September with extensive vineyard sorting and two weeks maceration time. Fermentation in stainless steel using indigenous yeasts and bottled in October 2020.

Not fined or filtered.
ABOUT THE PRODUCER
Farmer, winegrower, winemaker, wine producer and commercial. Authentic one man show , Tiago Sampaio is responsible for the creation of Folias de Baco and all its aromas and tastes. It carries with it the taste and the dream of one day being able to turn into reality what he learned and aspired from a young age.

It is in Douro lands, piggybacked by his grandfather, that he has his first contact with agriculture and the world of wines. It is in this environment that Tiago Sampaio learns to know a trade that was born out of pure curiosity and play to become, today, his work and research space.

With a view to building a future in these areas, it guides academic life in the sense of equipping itself with instruments that will allow it to develop a path as a wine grower and winemaker. He starts at the Conde de S. Bento Professional Agricultural School, in Santo Tirso, and continues five years of university studies in Vila Real. The Agricultural Engineering course he took in Trás-os-Montes lands gives him the passport to an internship in Oregon, in the United States of America, guided by Carmo Vasconcelos . That's where, in the next five years, Tiago completed his PhD in Viticulture and Oenology , at Oregon State University