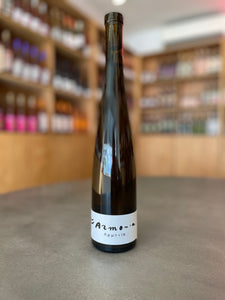 Region: Italy
Colour: Orange
Grape Varieties: Arneis, Moscato Bianco,
Soil type: Marl, Sand
Method: Organic / Biodynamic (uncertified)
Filtering: Unfiltered
Fining (clarification): Unfined
Fermented spontaneously using low-intervention

Notes
80% Arneis and 20% Moscato white. 12.0% vol. Orange wine. Manual harvest on September 4th for the white muscat and September 18th for the Arneis. Collected in small cases of 15 kg. Spontaneous fermentation in INOX with 15 days of maceration on the skins for the Arneis and 50 days for the white Moscato. After maceration the wines are assembled in INOX where they remain on the wine lees for 8 months. Ageing for at least 3 months in the bottle. This wine is obtained by spontaneous fermentation, unfiltered with the addition of 30mg / L of sulphites at the time of bottling.