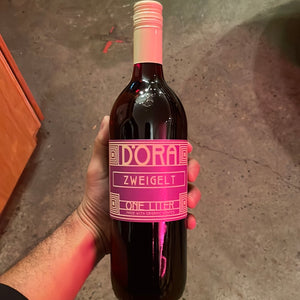 Country: Austria
Region: Niederösterreich
Grapes: Zweigelt
Vineyard/Cellar Practices: Certified Organic
Notes
Fifth generation winemaker Gerald Diem has been passionate about winemaking as long as he can remember - and no wonder, given that his family has made wine in the town of Obermarkersdorf in the northeastern Weinviertel since 1848! Gerald took over the Diem family estate in 2000, and along with his wife, Andrea, herself a talented vintner, deftly merges modern technology with traditional techniques. Their 25 hectares of vines are certified organic, and are dry farmed and hand harvested. Obermarkersdorf is nestled at the foot of the Manharts mountain, with soils a mix of sand and clay sediment as well as ancient stone left over from the prehistoric ocean that once submerged the entire western Weinviertel. The D'Ora label was named to honor Viennese born Dora Kallmus (1881-1963), recognized as one of the leading photographic portraitists of the early 20th century.

This zweigelt is made with grapes from the Ried Nußberg vineyard, and sees four weeks of spontaneous fermentation on the skins in temperature controlled 8000 liter tanks, including malolactic fermentation. The wine is aged for 6 months in 6000 liter stainless steel tanks, and is bottled unfined and unfiltered. Chillable and light on its feet, it showcases juicy, herbal flavors (reminiscent of red Blow Pops). Totally refreshing sipped on its own, but also great washing down wurst! Certified organic.