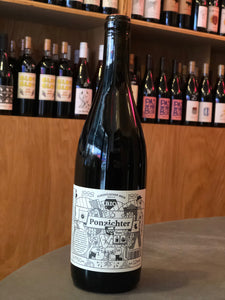 Producer: Weninger
Category: Wine - Still - Red
Grapes: Pinot Noir and Zweigelt
Region: Austria
Alcohol by volume: 12.0%
Features: Biodynamic, Organic

Notes
This light and quaffable red wine is made from a blend of Pinot Noir and Zweigelt grown on biodynamic vineyards in Hungary and Austria. Bright red fruit and a hint of muskiness. Great choice for the table


About the Producer
Since 35 years we concentrate on Blaufränkisch, we work on six Blaufränkisch vineyards in three areas. From clay to slate, schist and lime. Very early we realized that the character of a vineyard can only be felt on a healthy living soil. Our oldest vines are 80 years old.
In the way we treat our vines with respect, we also treat our soils and people.

Franz Reinhard Weninger, born in 1979, grew up on his parents' wine estate in central Burgenland. Only a few kilometres from the lake, close enough to the wine. In Horitschon he not only learned the art of making wine from his father, but in doing so also discovered his great passion. After graduating from enology school in Klosterneuburg, he did some internships abroad. In 2000, having come closer to wine, he sought the geographic proximity and took over as enological and organizational director of the Balf estate near Sopron. Since 2011 he is in charge of the Austrian estate.

Franz Ludwig Weninger had known his parent's small estate for thirty years when he took over operations in 1982. It was only seven hectares, but the very first year, in 1983, he managed to produce the internationally recognized Blaufränkisch Kabinett. It was a very promising beginning, followed by the expansion of the estate to its current size (28 hectares) combined with a further increase in quality. For years he has been ranked among the top national and international winemakers. The former family-run operation has grown in size, but the family has remained an important part of the estate: as co-workers involved in the day-to-day organization and administration, as namesakes for prize-winning wines, or as a new generation of winemaker who brings with him challenging ideas and his own wine experience.