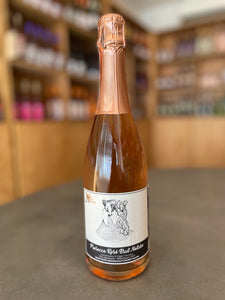 Supplier: Skin Contact Wines
Producer: Wild Nature Wines
Category: Wine - Sparkling - Rosé
Geography: Veneto, Italy
Appellation: Prosecco
Alcohol by volume: 11.0%
Features: Organic
Variety: Glera and Pinot Noir

Wild Nature is a winery located in both the Verona and Venice provinces. The project is one focused on terroir, a mindfulness for nature, particularly the animals that inhabit the vineyard sites. In addition to their organic practices, they are also firm believers in biodiversity in the vineyard, which the animals on each of their bottes reiterates. The winery has been pioneering organic farming since 1974 in northern Italy. Alongside their vineyards, you will find tree-lined banks, meadows, and ponds, encouraging the abundance of wildlife.

The region of Veneto now allows for the production of "Prosecco Rosé" as the name of the wine and the winemaking appellation. The wine is done in the charmat method, different from Champagne, as it is done with the tank method. Glera, the traditional grape used for Prosecco production, is blended with an additional 10% Pinot Nero. The wine has no added dosage (sugar).