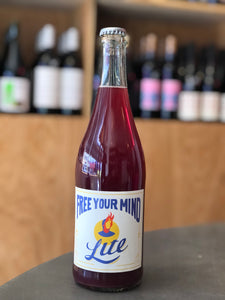 Producer: Wonderwerk
Grapes: Carignan and Riesling
Geography: California, United States
Piquette! An old school wine cooler of sorts, this is a low alcohol wine that was traditionally enjoyed as a mid-day thirst quencher on the farm. Piquette production is a scary process that violates this winemaker's sensibilities. With minimal alcohol and acidity contributions from grape pomace, we had to think outside of the box to troubleshoot the shortcomings of this wine style. How can we borrow alcohol and acidity naturally - from other agricultural produce rather than from powders and extracts - while also layering more complexity on to a pomace re-fermentation? How can we develop a more complete flavor profile? We found those answers in ume and jamaica, thanks to a little help from our friends at Tsubaki and Masienda in Los Angeles.

Production:
Pomace was retained, hydrated, and re-fermented post-pressing from our carbonic Carignan cuvée (Free Your Mind) and our 48 hour skin-contact Riesling cuvée (Toot Toot Beep Beep). The co-fermented pomace cuvée was pressed after a week. To increase acidity and complexity, we then added a concentrated brew of Heirloom Oaxacan hibiscus (aka jamaica) from Masienda (Los Angeles, CA). To bolster the alcohol content and provide further complexity, we added preserved California-grown ume (aka Japanese plum) which we had processed earlier in the summer. We blended in a 30% (v/v) addition of finished Free Your Mind wine (Carignan + Riesling co-ferment) and added Riesling juice just prior to bottling to provide a low level of carbonation after bottle conditioning.